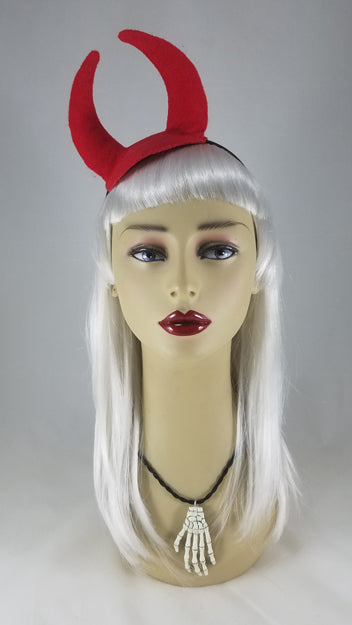 Red Devil Horn Fascinator
Regular price $60.00 Sale
Why wait for the party down below when you can get started up above? What started as a custom order for a retro styled Devil bonnet for a Halloween took on it's own life and is now a fascinator too! In a hellishly brilliant red, this hand sewn fascinator features dramatic horns at a rakish tilt. Made with Eco-fi™ felt, 50% acrylic/50% polyester post consumer completely waste using recycled plastic bottles. This might make you more angelic than you care you admit, but don't worry, the devil couldn't drag it out of us.
Custom color options available, contact us here with your inquiry.
Santa Satan Fascinator with holiday silver garland trim available here

Red Devil Hood version available here.
Skele Hand Ornaments of Bones Solo Necklace pictured, available here